Magnum Photos: Where Ideas Are Born, visits artists studios in search of the places where creativity takes shape and ideas are born. It brings together more than 20 famous photographers from the world-renowned Magnum agency, and includes over 60 photo portraits of the some of the biggest names in 20th century art.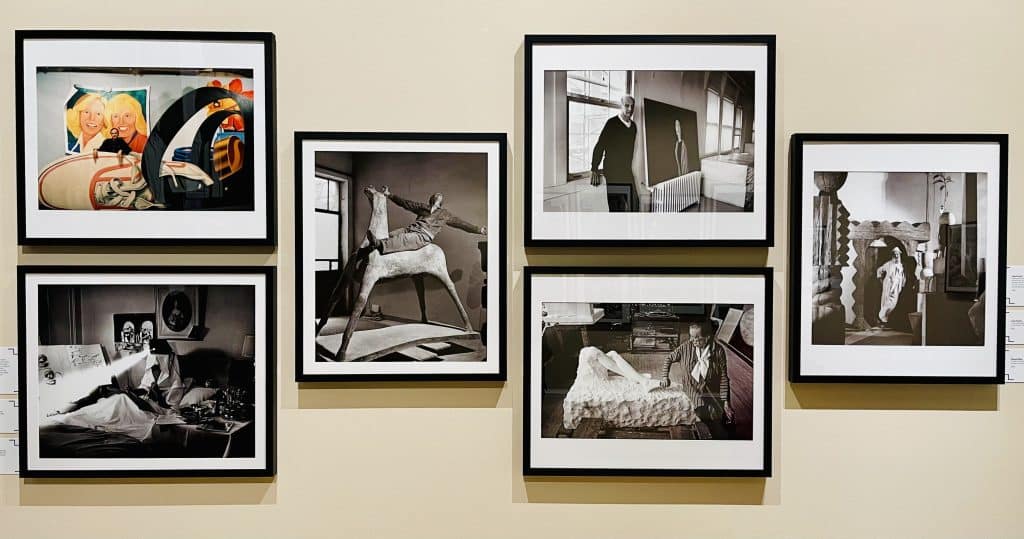 This is the latest exhibition at Compton Verney, an award-winning art gallery located in a Grade 1 listed Robert Adam mansion. We are always delighted to take the opportunity to venture in to the Warwickshire countryside and enjoy a day visiting Compton Verney's wonderful exhibition spaces and strolling their idyllic grounds.
Set in 120 acres landscaped by Capability Brown, it also features impressive permanent collections that focus on six specific areas which are generally under-represented in other British museums and galleries: 16th-century Germanic art; 17th-century Neapolitan art; British portraiture; Chinese bronzes, and the largest collection of British folk art in the UK.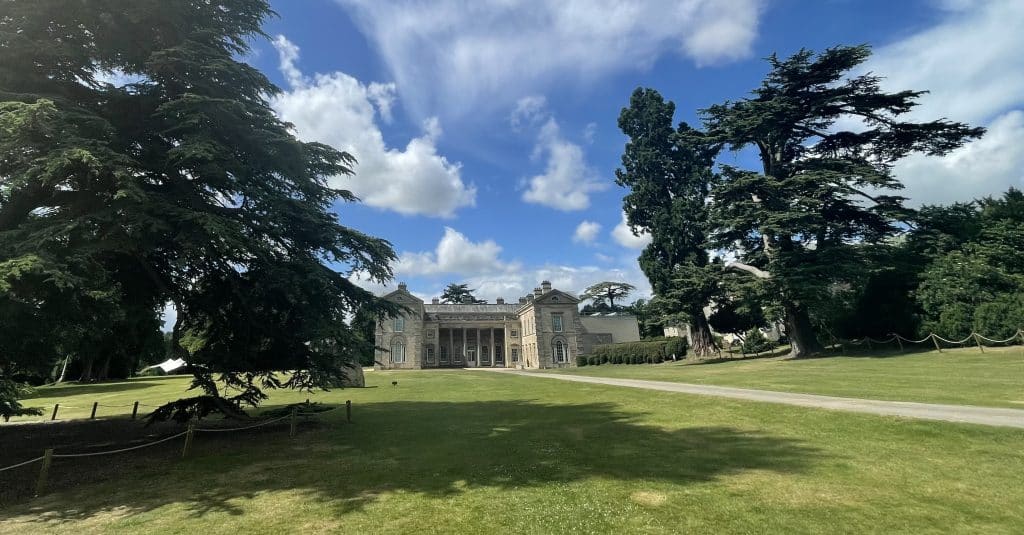 In a novel and fascinating view Magnum Photos: Where Ideas Are Born switches the focus from the creative artist behind the lens to others in front in order to provide a more revealing look at these great names. In a series of revealing and characteristic images, artists such as Pablo Picasso, Andy Warhol, Frida Kahlo, Francis Bacon, Salvador Dali, Keith Haring, Henry Moore and Roy Lichtenstein are seen in their creative environments.


We journey through rooms with three broad themes, starting with In The Studio, and followed by The Moment of Creation and A Portrait of the Artist.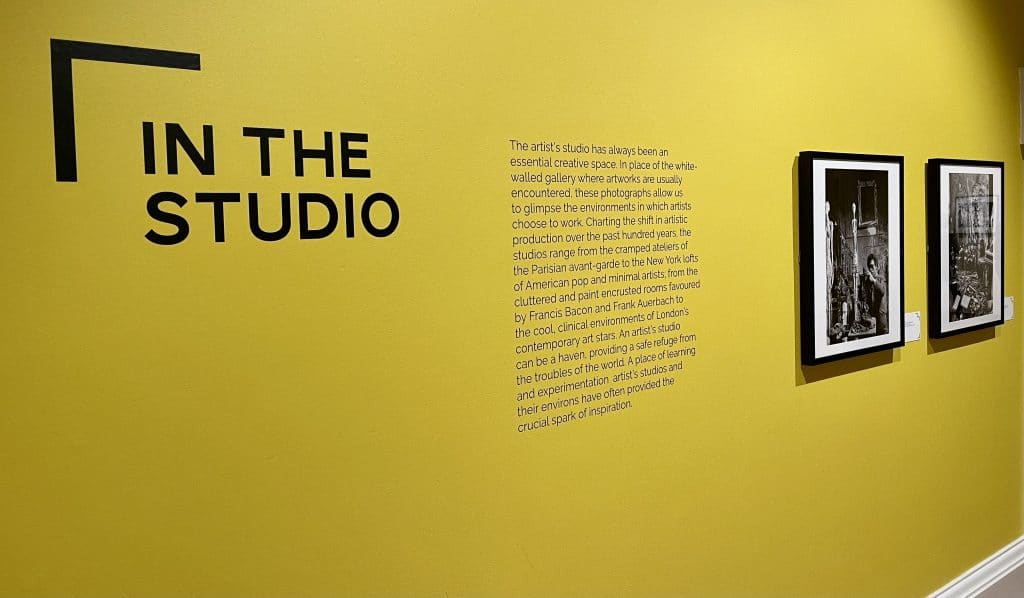 From Werner Bischof we find Frida Kahlo working on a canvas from her wheelchair, watched over by shelves stacked with dozens of pre-columbian clay figurines, whilst Henry Moore carves the finishing touches to a stone figure.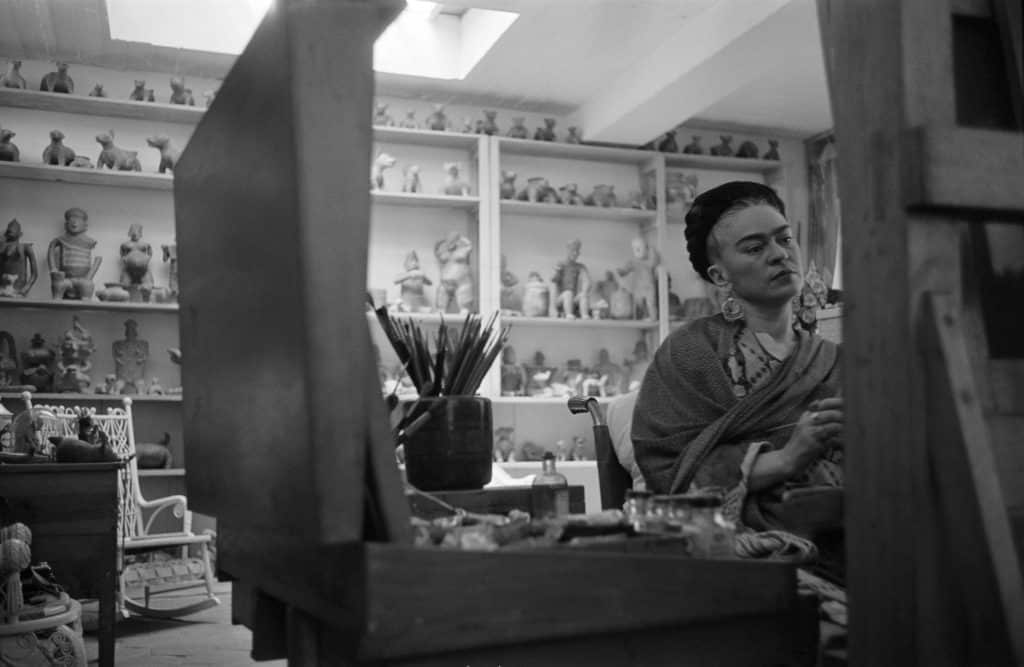 We get a unique insight into spaces rarely seen - the creative chaos of Francis Bacon's studio at 7 Reece Mews, Frida Kahlo painting from her wheelchair in the final months of her life, Helen Frankenthaler using slippered feet to create an Abstract Expressionist painting, Tomi Ungerer in his Soho home making a bird from an electric iron, and Salvador Dali in bed, projecting pieces of dirty paper "to stimulate his inspiration."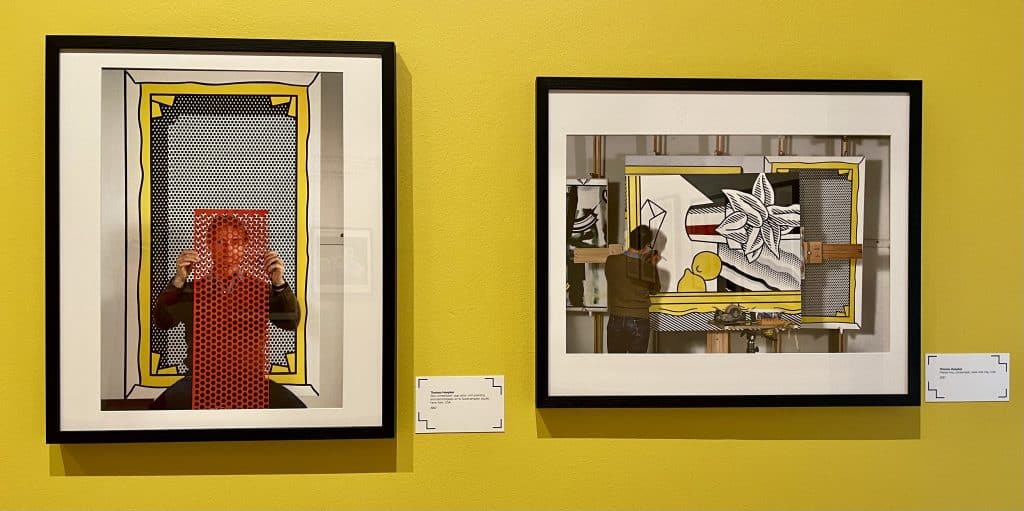 In A Portrait of the Artist, Thomas Hoepker pictures Roy Lichtenstein playfully peeking through a screen used in the painting that sits behind him. Pablo Picasso gazes out of the window of his loft atelier, recent works on easels or stacked against the walls.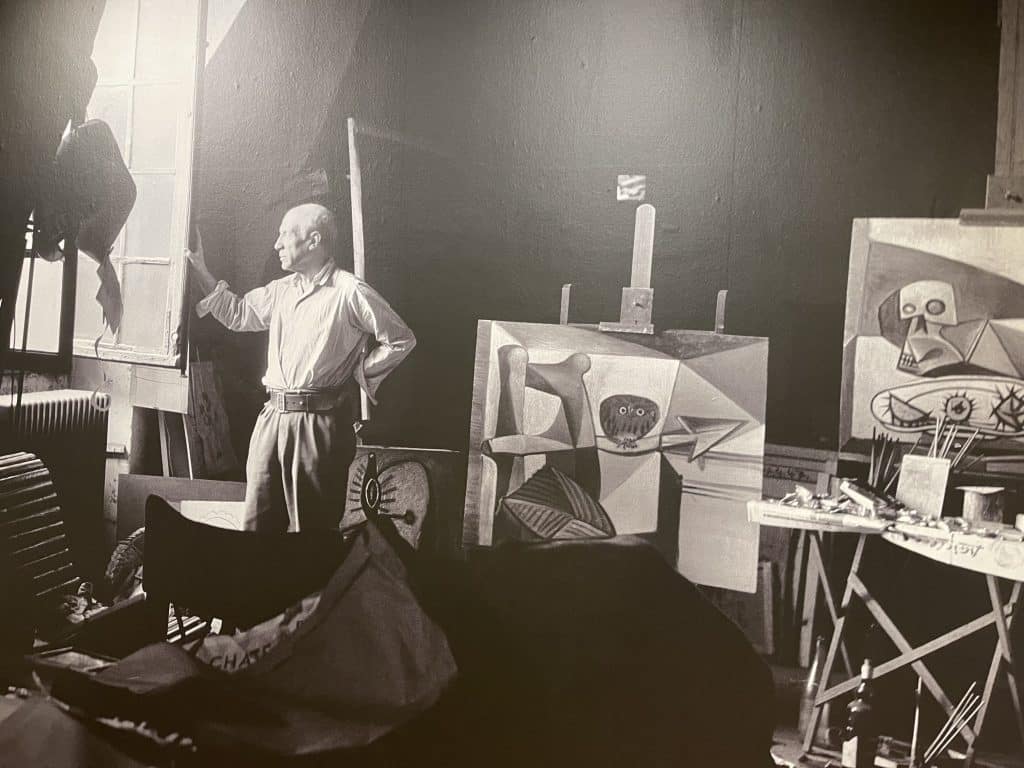 Andy Warhol crouches on the floor of the Factory as Eve Arnold snaps him experimenting with the colourways for his famed 'Flower' series. Alex Majoli catches Yayoi Kusama sporting her trademark red wig as she puts finishing touches to a canvas of orange polka dots.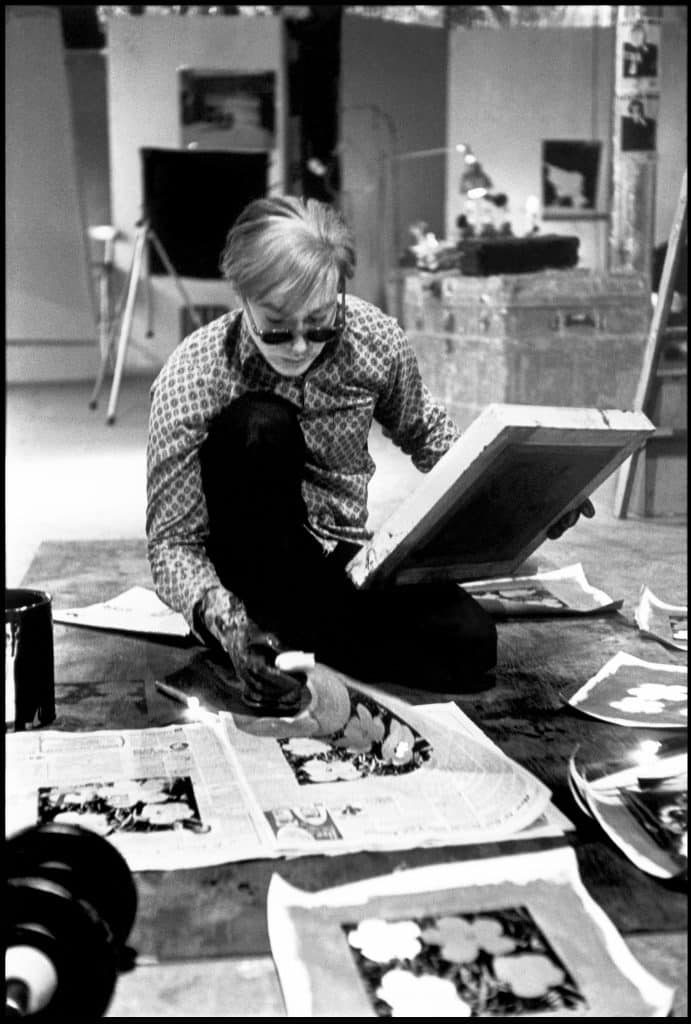 The viewer, along with the exhibition curators and the photographers themselves, like to believe that these works 'capture' these private creative moments. Perhaps we can now see the 'real' artist revealed off guard in moments of deep artistic thought?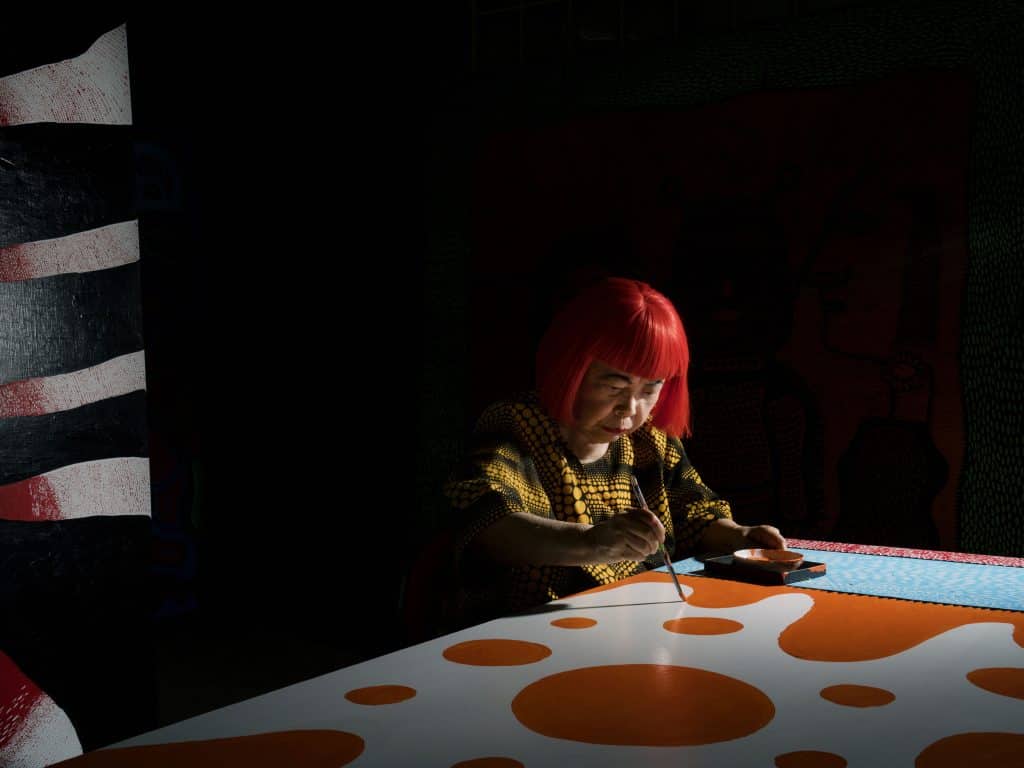 On the whole, the reality is likely to be somewhat different as visits are planned, poses made and light settings adjusted. The photographers themselves are also working creatively with their own aesthetic concerns, whilst bringing personal opinions of the artist and interpretations of their inner processes.


Rather it is probably more interesting in Magnum Photos: Where Ideas Are Born to examine the exhibited works fully realising that we actually have two powerful creative processes at work - those behind and in front of the lens. Sometimes we find the photographer imposing their own aesthetic (Majoli on Kusama perhaps) whilst others observe more impassively (Herbert List and Constantin Brancusi).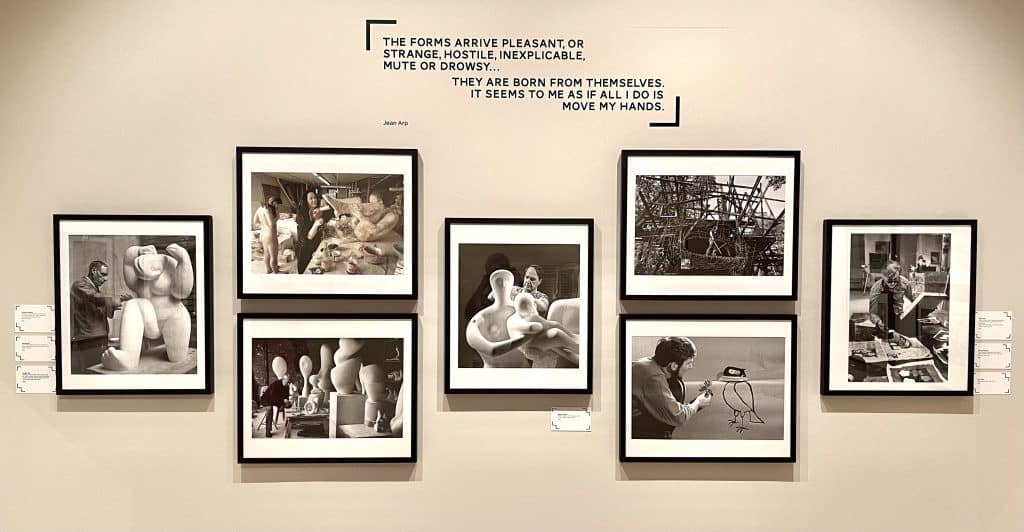 As portrait subjects, artists are often fearless and experimental performers. Posed in their studios, beside or even on top of their works, there is a sense of artist and artwork becoming one. In the golden age of photojournalism, magazine assignments were plentiful and Magnum photographers were granted unique access to artists. The resulting images are now an invaluable and iconic record: capturing the historic moments when great photographers meet great artists.


This is an excellent and thought-provoking exhibition but with any visit to Compton Verney there is always much more to enjoy. Take time to visit (usually) at least one other temporary exhibition and dip in to the Gallery's fascinating permanent collection. Last but not least, be sure to enjoy their excellent cafe-restaurant - set in a bright and airy space, serving delicious food.


Magnum Photos: Where Ideas Are Born is at Compton Verney until 16 October 2022
For more information visit Compton Verney

This article first featured on www.cellophaneland.com

The exhibition is accompanied by a book, Magnum Artists by Simon Bainbridge (Laurence King, 2020).
To buy photographs by some of these artists as well as other prints and editions visit www.feuteu.com


For our curated recommendations for Art, Culture, Design and Architecture books visit the CELLOPHANELAND* bookstore
July 11, 2022